Helpful Tips to Improve Your V-Guide Knowledge
March 29, 2022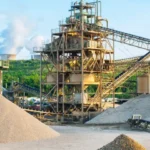 Getting Conveyance Parts During a Supply Chain Shortage
June 28, 2022
Road construction requires quality milling conveyor belts designed to meet rigorous applications under demanding conditions. Work with the leader in road milling belts and avoid downtime.
---
There are more than 4 million miles of road in the United States, making road construction a continuous job. Road milling machines take the brunt of the workload during these projects. Because belting is critical to the operation, road crews need heavyweight conveyor belts that can withstand extremely harsh conditions. Motion Conveyance Solutions' Road-Away™ milling conveyor belts are designed to provide the superior performance required by road crews and companies.
Motion Conveyance Solutions is the market leader in milling belt production. We produce fully molded milling belts for the top OEMs in the United States. Our Road-Away belts employ high-strength, rip- and abrasion-resistant components engineered to endure this abusive application while transporting materials as efficiently as possible. With a single-piece molded cleat, our belt eliminates the danger of cleat separation from belt covers. Plus, we keep a large inventory of many popular Road-Away belt styles on hand for immediate shipment.
Our fully molded cleat pattern offering is available in three varieties: U, V, and Y – all ranging from 16″ to 32″ wide. The 1-1/4″ Y-cleat offers the ultimate carrying capacity because it provides better distribution of material on the carrying side. These belts operate smoother and quieter than competing belts because of their center stabilizing bar. Additionally, the wide base of the cleats gives them outstanding bond strength and durability. Our rubber compounds and cleats improve performance, and Mi Conveyance Solutions' advanced endless splicing techniques provide unrivaled strength, flexibility, and functionality to withstand the severity of high speeds and small pulley diameters. These belts are also available with Megalloy fasteners when belts need to be replaced quickly. Road-Away milling conveyor belts are fully molded for high capacity. Their high-strength, rip- and abrasion-resistant components transport materials as efficiently as possible. 
MILLING CONVEYOR BELT FEATURES AND BENEFITS
Specially designed rubber compounds withstand impact from heavy, sharp materials
Fully fabricated, single-piece belting and molded cleats eliminate dangers of cleat separation
Advanced splice ensures ultimate strength and flexibility
Tolerant of high speeds and small pulley diameters
Higher capacity and better material leveling on carrying side
Smoother, quieter operation on return side with stabilizing center profile (Y and V)
Belting sizes for all manufacturers – including availability of metric cleat sizes and the ability to have up to 1-1/4″ high cleats
MANUFACTURING AND FABRICATION FEATURES
Y-Cleat Pattern
Most recent generation of road milling belt styles
Taller design increases belt carrying capacity and prevents product rollback on inclines
Features center Y profile and continuous, solid center stabilizing bar
Allows belts to run quieter and smoother over idlers
Aids belt to run straight on conveyor
Cleat compounds made of high-strength rubber that provides tear and cutting resistance
Belt Rubber Covers
Specially formulated compounds provide superior abrasion resistance
High natural rubber content provides exceptional tear strength, as well as cut and gouge resistance
Contains ozone inhibitors to withstand effects of prolonged exposure to hot/harsh conditions
Fabric/Carcass
High-strength, low-stretch, all-polyester fabric
Enhanced belt tracking and improved overall performance
Special fabric weave enhances endless splice strength
Flexible properties allow belt to withstand high speeds and small pulley diameters
Single Ply/Straight Warp
Exceptionally strong and durable fabric
Designed to provide superior resistance to gouging, tearing, and puncturing
Better withstands the abuse of sharp and abrasive material on primary conveyor
Endless Splice
Provides superior tensile/breaking strength
Proprietary design allows splice to better withstand harsh operating conditions
Flexible properties allow belt to withstand high speeds and small pulley diameters
ROAD MILLING BELT SIZES
Motion Conveyance Solutions offers a wide variety of belt styles compatible with all major OEM models of road milling machines:
Primary/Pick-Up Belts: 31.5″ to 60″ wide; 15′ to 32′ long
Secondary/Discharge Belts: 24″ to 54″ wide; 48′ to 58′ long
Contact us today to request a quote. We'll help you select the right belting solution for your road milling machine.
CONTACT US AND LEARN MORE ABOUT PRODUCTS & SOLUTIONS